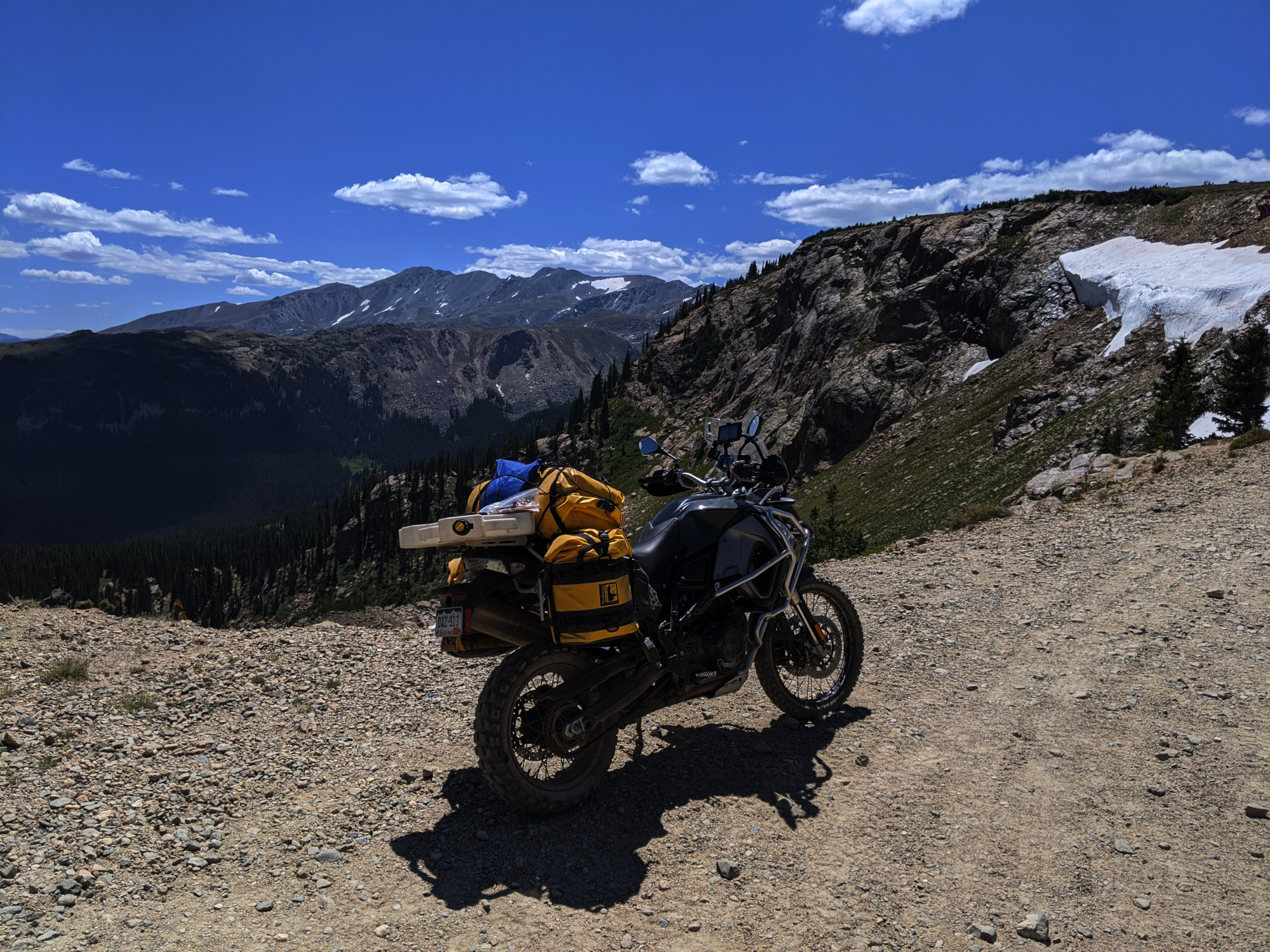 From Denver I started up Highway 285 and cut off over 11,493 foot (3,500 meter) Boreas Pass to Breckenridge. This pass is easy gravel. In fact I passed a Mini-Cooper on the road. Next I cut up to Leadville and tackled 11,939 foot (3,640 meter) Hagerman Pass. This was a rough one. I didn't fall or have any problems, but it was almost at my limit with the F800. The views were absolutely worth the workout though. The road from the pass to Basalt was one of the more beautiful roads in Colorado. Then I headed over the paved 8,770 foot (2,673 meter) McClure Pass. But instead of heading down to Paonia and Hotchkiss like we normally do, I turned off and took
a gravel road through the middle of nowhere. It ended up by Colbran where I turned south up onto the Grand Mesa, apparently the largest flat-topped mountain in the world. I found a campsite at 10,000 feet (3,048 meters) as the sun was setting. That was a long 309-mile first day.
The second day was a bit easier. I exited the Grand Mesa off the serpentine Lands End Road to the west. The views down to where the Gunnison and Colorado Rivers merge is spectacular. I crossed the valley and headed up the canyon towards Gateway, Colorado. A few miles before Gateway I turned south and climbed up through the Dominguez-Escalante National Conservation Area, named after two Spanish Franciscan priests that explored the area in 1776. This also put me on the Uncompahgre Plateau, a spectacular place with numerous ecosystems. The gravel roads head over a hundred miles south before finally coming out near Montrose. From there I headed back east, through Gunnison, up the spectacular Taylor River Canyon and
found another 10,000 feet (3,048 meter) campsite just west of the 12,126 foot (3,696 meter) Cottonwood Pass. Although this day I only rode 280 miles, a lot of it was dirt/gravel. Another spectacular day.
My last day was set to be a pretty short one. But after breakfast in Buena Vista (pronounced b-you-na-vist-a), I just didn't want to go home. So I decided to head off into one of my favorite areas in the state of Colorado. It is just huge open spaces with nothing but a few ranches and endless views. I love it. So after that detour I zig-zagged through small mountain roads all the way to the Front Range. My final day was 224 miles for a grand total of 830 miles. What a great trip!
I packed a lot of riding into this solo trip. Once again my riding buddies were unable to join so I took off on my own. I'd just had a successful solo trip the previous month so I decided to push a little further. I rode a ton of dirt through some spectacular and remote areas, a half dozen mountain passes and enjoyed every moment.