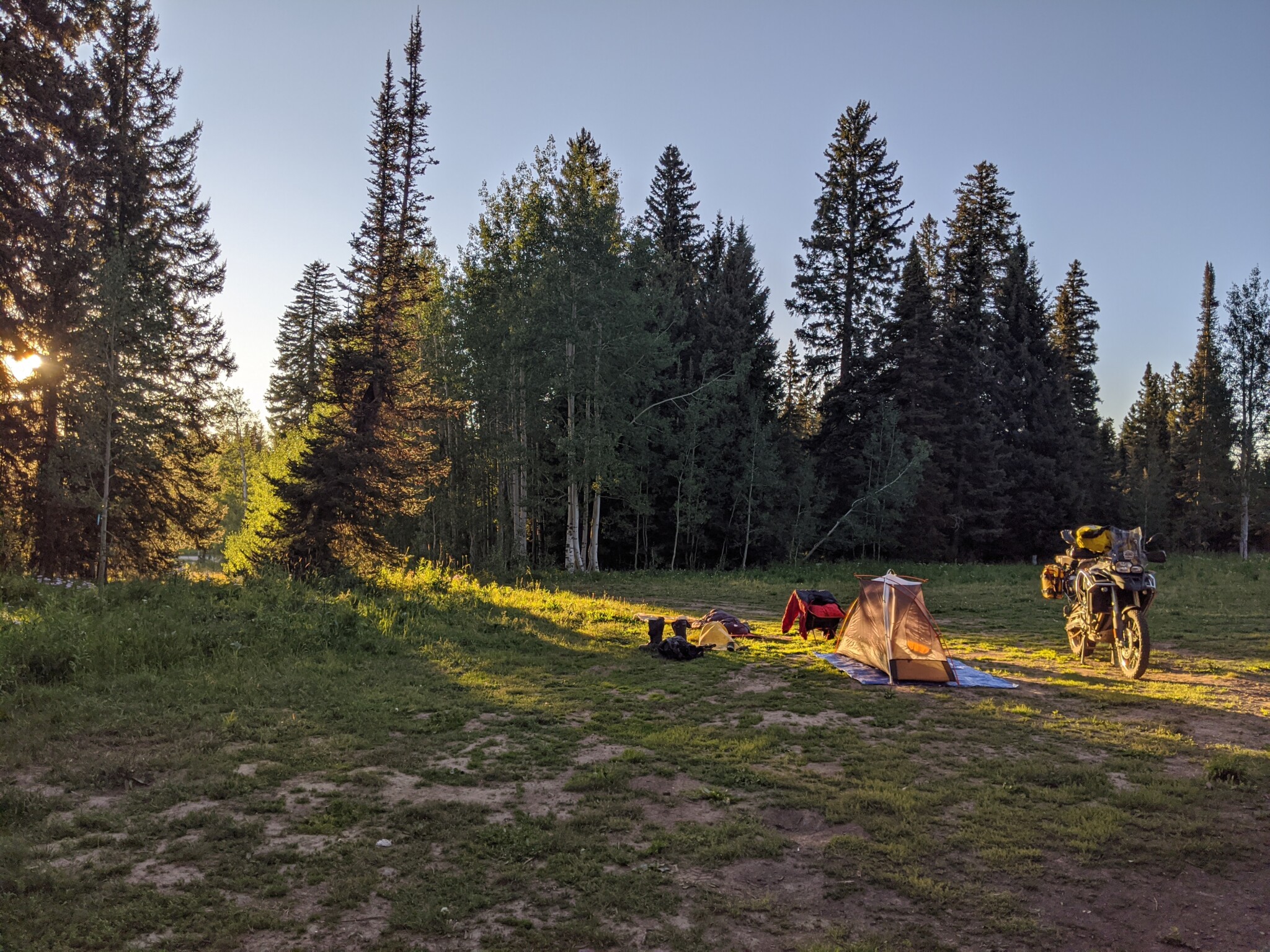 My normal riding buddies had some things going on and couldn't join me, so I decided to go on my own. Man am I glad I did. It was a totally different experience riding and camping by myself. I could ride as long as I could, as slow as I needed and stop whenever I wanted. That's not to say I can't do that with my normal riding buddies, but it was just different. The first day I only got as far as the forests west of Fraser, Colorado. It was less than 3 hours and a little over 85 miles from my house, but the camp site I came across was too perfect to pass up. Tucked away in a little valley, right next to a stream and no one else around. It's a good think I stopped there, because just a couple months later, the entire area burned in one of the biggest forest fires in the state's history. I was able to take a few photos of the Milky Way that night. I even "painted" my cycle with my red headlamp bulb for one shot.
After a leisurely first day, I decided to get going early and see where I'd end up. The weather was perfect and there as hardly anyone around so I ended up riding about 240 miles. That might not seem like much, but much it was on dirt and rough terrain which really slows me down, especially on this heavy bike. I also ended up riding about 60 miles on 2-3 inches of fresh gravel. That has to be some of the scariest riding I'd ever done. The bike is constant squirreling all over the road and it feels like you have no control. But I just took it slow and made it through. I ended up finding a camp spot in the mountains above Rifle, Colorado. I took a super sketchy steep jeep trail to get there. I had no business riding this trail by myself, but no harm no foul. This beautiful area also burned in late 2020 after I was here. It was a rough year for fires in Colorado.
My third day I came back along a long stretch of the Colorado River that is all gravel/dirt. I even managed to find a beautiful loop that climbed up the cliffs along the river and descended through a hidden valley that filled with ranches, cattle and little else. I was thinking of camping another night, but it was a Friday and you wouldn't believe the amount of people coming up from the Front Range. I tried to go back to the same camp site I had the first night, but it was already full and so was the entire area. It was pretty disheartening. But I'd had a great trip, and it was early, so I just headed home. A storm was blowing in so the ride up over Berthoud Pass was pretty chilly, but I managed to  miss any rain or snow. All in all an amazing 600-mile motorcycle tour.