We just got back from the European Motorcycle Tour 2018. It was a big trip and it went amazingly smoothly, but that didn't happen by chance. Every detail was planned in advance and that's what really made it work out so well. This is how EMT 2018 came to be.
It all started around new years 2018 when I decided I'd fly over to meet my great friend Kuba (born, raised, and currently living in Prague) to go on a motorcycle trip in the coming year. Kuba and I initially talked about going over the Alps to Tuscany, around the Adriatic and down the coast of Croatia. I mentioned this trip to my brother-in-law Rick and he showed some interest. So I said I'd work up some details on time needed, flights, motorcycle rental, and how much hotels and food would cost and send an email out to him.
I first started looking at flights and found a Denver to Munich non-stop flight on the lovely German airline Lufthansa. Next I contacted several motorcycle rental agencies and got some quotes. The prices were actually reasonable so I moved forward. Then Kuba and I looked at routes and decided with just two weeks we were better off staying in Central Europe. I roughed out some numbers for hotels, meals, and beer and sent out the email. I decided to include Rick's two brothers Randy and Rod in the email since we all ride together pretty regularly.
The next week Rick called and said, "I'm in."
I remember being a little confused. To be quite honest, I'd forgotten Rick had expressed interest in the motorcycle trip. Mostly because over the years I've invited many friends to join me on trips, and many times they said they'd go. I'd get really excited and then 99% of the time they'd bail. So over the years, I've learned to put the option out there and then expect them not to join me. If they did, great. But if not, I wouldn't feel let down. "In for what?", I replied.
"I'm in for the Europe motorcycle trip," Rick clarified. "I decided three days ago and I've been so excited I haven't been able to sleep,"  the excitement evident in his voice.
And that's where it all started. After initially passing on the invitation, Rick's older brother Randy succumbed. Not just from Rick harassing him twice daily, but from virtually everyone he told about the trip telling him he'd be an idiot if he didn't go. At this point, Rick and Randy's only other brother Rod didn't have a choice, but didn't need to be asked twice. And then a friend of ours, Adam, got wind of the trip from Rick, immediately ended his call with him, called me, and without preamble asked, "Can I get in on this Europe motorcycle trip?" And then we were six.
Even though all four Colorado guys had assured me they were going, I was a bit skeptical. I've heard this before. The proof is when some money went on the line. And since there was a great deal on a non-stop flight from Denver to Munich, I figured we'd better get flights before the deal was gone. I told the guys I was going to buy the tickets and there were no refunds. So if they wanted out, now would be the time. None of them hesitated.
Now that everyone was in, it was time to start the planning. Since we were a bit more limited on time with the guys, the first thing I decided was to stay north of the Alps. Kuba and I talked and we decided on a loop starting in Munich, heading East through the Czech Republic, into Poland, and then West back through Slovakia, into Austria, and north up to Munich. The next few months were spent researching where to go and where to stay. After asking my Czech friend Darina about suggestions, Kuba and I managed to organize some beautiful places to visit and some amazing accommodations, including a 17th century castle in the Czech Republic (Hruba Skala – Czech out the drone video on their website) and an 18th century palace in Poland (Palac Zelazno – in Polish, use Google Translate for English). These were lovely, but the one thing we enjoyed almost more than the castle and the palace, was the push-button espresso machines at every breakfast on the trip. I'm pretty sure Randy already has one up and running at his house.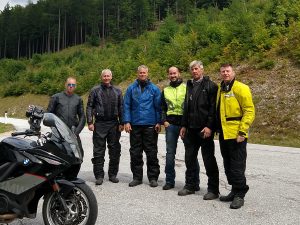 After 12 days on the road and 1,600+ miles (2.600 km) we rolled in to return the bikes. The trip was a success! No one got hurt. No bikes got damaged. We saw some exceptional scenery. We had some unbelievable riding. But most of all we had fun. Now that we've been back a week, I've been looking back on the trip and telling the boys that I think I could have done that for 2 months straight. Ride through the country side, explore a new town, meet new people, have a meal with a couple beers and talk about the day's ride, and then get up and do it all again (with a push-button espresso or course). Maybe that will be another adventure down the road. We shall see.