Six guys on motorcycles, for two weeks, through five countries, and 1,600+ miles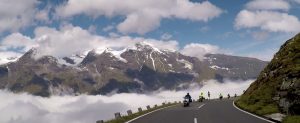 We (Kuba, Rick, Randy, Rod, Adam, and I) just got back from two weeks of motorcycle heaven in Europe. A 1,600+ mile (2.600 KM) loop through five countries of Central Europe and a lifetime of experience in just two weeks. I'm having some difficulty coming up with the correct superlative to describe the trip. Amazing? Yes. Spectacular? Also yes. Mind blowing? Absolutely yes. Beautiful? Stunning? Kickass? Yes, yes, and YES!
To learn about how the trip came to be, check out my post on How the EMT 2018 Trip Happened. But on this post let's focus on the trip itself.
After a 10-hour nonstop overnight flight we arrived in Germany at about 10:00 am on August 22rd. Despite being exhausted I encouraged the guys to stay up all day to try and beat the jetlag. We were staying in Erding near the airport because we were picking up the motorcycles there the next day. We took a brief walk around the town of Erding, grabbed a bite to eat and a beer and then went back to the hotel to meet my buddy from Prague that would be joining us for the trip.
Kuba (short for Jakub) and I met 15 years ago when I was living in Prague. He and I developed a brotherhood over beers and created the Prague Pubs website together. We've kept in touch over the years and I was really excited to go on a motorcycle trip with him. Kuba drove his own motorcycle over from Prague, about a 4-hour ride, and was ready to ride more when he arrived. After an introduction to the other Colorado Gentlemen (and Adam) we jumped on a train to Munich. To take in the sites, get some dinner, and have a couple more beers.
The next morning we woke up and everyone was excited to get on the road. After breakfast we headed over to pick up our cycles. After signing over our first born (jokes on them) and packing our side cases we took off. It was a hot day, but there was still a cool breeze once we got going. We headed west into Bavaria on small roads through rolling hills that Adam said looked exactly like Wisconsin. We continued west through a small pocket of Austria and then into the Czech Republic. After a short ferry ride across a lake, we got to our first stop, Český Krumlov. Nestled into a small river valley with an imposing castle on the rocky hill above, Český Krumlov is a pretty spectacular setting.
The next morning we headed north to the western area of the Czech Republic called Bohemia. I set the GPS to avoid highways so we stayed on serpentine country roads that crawled over the country side, tunneled through dark forests and crawled into tiny ancient villages. At the end of the trip while reflecting on our favorite parts, several of us said these rides were our favorite of the trip.
Our destination for the afternoon was my good friends Zuzka and Pavel's house in Ruda, about 45 minutes outside of Prague. It was so great to see them and their sons Daniel and Viktor. They generously prepared food and drink and we had a great time catching up and the boys really enjoyed getting a tour of their property which started as a coal mine and then was turned into a flour mill. Most of all I was really proud to introduce my very good Czech friends to my Colorado friends.
We left our cycles in Ruda and took a shuttle we had arranged into Prague. Two nights in Prague allowed us to get just a taste of the town and a day off of the road.
More to come…
<iframe src="https://www.google.com/maps/d/embed?mid=11DoAWU2lYcoUnxXG9DpVVDfodCHJJxiy" width="840" height="480"></iframe>