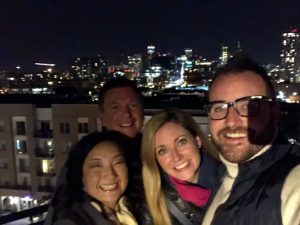 Time seems to be going faster with each year and this spring was no exception. With the blink of an eye it's already July and I'm three months behind in my posts. So I've decided to do a quick round-up of what's been happening and anyone that wants to hear more can post a comment.  Here goes…
In March, April and May I went snowboarding a few days, played some golf, and did a lot of motorcycle riding and exploring. We did a group trip to the Buena Vista area with the usual Colorado Gang and a friend of the Fuss brothers (Eric) from Minnesota joined us as well. I played in my first golf tournament ever with my neighbor at his country club. Everyone there was really nice, but I learned that isn't really my scene. I worked on a few woodworking projects, went camping, hiking. and relaxed. In March, Emily and Tom, that are friends with my buddy Eric in D.C., decided to come and visit Denver for the first time. I met them a couple years back when I joined them all in Munich for Oktoberfest and had extended the invitation. I took them up into the hills for a Redneck Saturday of 4-wheeling, drinking beer, and shooting my pellet gun before finishing the evening with a lovely dinner at El 5 overlooking downtown Denver. I'm pretty sure they thought I was crazy, but we all had a lot of fun.
In April I took a road trip down to my parent's in Tucson. I wanted to show them my new truck, check-in, help with any projects they may have, and pick up some mesquite logs my dad had collected for me from his weekly community garden volunteering (I'm hoping to mill them into planks with my bandsaw and make some furniture with it). On the way back I camped a couple days in Utah, (hiking some of the same canyons Rand I visited in February) and then met up with Randy and TIna. They had rented an amazing house in a private canyon behind Moab, Utah and had very generously invited me to join them for a couple days. The house was in an amazing setting on a red sandstone cliff, in a canyon filled with thousand year old petroglyphs, and an commanding view of the snow-capped La Sal Mountains.
In June Amy and I went up to Duluth, Minnesota to my niece's high school graduation and to visit my childhood friend Dave who had moved up there recently. Then we cruised down to La Crosse, Wisconsin to visit Amy's family for a bit. The trip was relaxing and it was good to see everyone and catch up.
I've also finished planning a 2-week motorcycle trip through Central Europe that I'll be guiding with my motorcycle buddies from here in Colorado and with my Czech buddy Jakub in Prague. Stay tuned for that post later this fall. Other than these things, I've just been living life… or should I say the Life of Mike.