All the boys, Rick, Rod, Randy, Jason, and myself got out on a multi-day ride in the amazing Colorado mountains. We rented a house in Buena Vista for 3-nights and used it as our base of operations.
Day 1
The previous night Jason and I had updated my initial route due to some concern that it might be too long for some (Rod!). We knew we still had a long day of riding ahead, so the five of us met early at Rand's. There was a brief scare when his bike wouldn't start, but after a quick push-start, we were ready to roll and jumped on I-70 briefly and then Highway 58. Golden flashed by on our way to the mouth of Clear Creek Canyon where our route started up into the mountains. Slicing through the cool air flushing down the canyon with low morning light on our backs we swerved along the black snake ribbon of highway gaining altitude quickly.
More to come…
Day 2
After a somewhat slow start, we headed south out of town with the idea of riding Marshall Pass in the morning. But I found myself trying to look to my right as much as I could without running on the road at the stunning 14,000+ feet (4,200+ m) Collegiate Peaks. So I thought why not head up Chalk Cliffs Road toward the ghost town of St. Elmo.
More to come…
Day 3
I woke with a clearer head today, but only slightly. The brothers had a routine down now and had already jumped on their bikes and cruised into town to pump some caffeine into their veins. I joined them to do the same and then we headed back to the house and suited up to hit the road. We were losing one of our team today, as Jason had to work tomorrow. So we picked a route that headed east so we could all ride together for the morning.
More to come…
Day 4
After the adventure of the previous afternoon and the previous three days of hard riding, I think we were all ready to get home. We loaded up our bikes with our gear, bid our brief mountain home goodbye, and pushed south toward Salida. We'd been hitting the dirt roads pretty hard so we decided to take some pavement for the first part of the day. The scenery along Highway 50 between Salida and Canyon City provided a peaceful backdrop for the morning ride.
More to come…
This map shows our routes for all four days. Click the button on the top-left corner of the map to select the routes for one of the four days.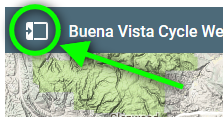 <iframe src="https://www.google.com/maps/d/embed?mid=1c2fBHW3AmS9bhlos3uqziTqrkCM" width="800" height="480"></iframe>
<iframe width="560" height="315" src="https://www.youtube.com/embed/RbergfMr8Hc" frameborder="0" allowfullscreen></iframe>