Mike has the privilege of living in one of the most beautiful states tailor-made for outdoor and adventure enthusiasts – Colorado. After a busy workweek, it is not uncommon for him to take off for the weekend with friends to take in the beautiful scenery and rugged terrain. One of his favorite ways to do this is from the seat of his Yamaha Super Tenere adventure motorcycle.
It was a weekend in July 2017 Rod, Randy and Mike (pictured left to right respectively), decided to ride from Denver to Pagosa Springs via a couple off the beaten path and more scenic routes.
Route
The proposed route from Denver was to go up 285 to Pine Junction, down through Deckers to Woodland Park, Divide and then Cripple Creek. From there, just south of town they'd cut off on the gravel Shelf Road down to Canyon City and then take Oak Creek Grade Road (another gravel road) to Westcliffe. They'd then jump on Highway 69 down to County Road 559 (gravel) and take Medano Pass at 10,040ft (3,060m) over the Sangre de Cristo mountain range to the Great Sand Dunes National Park. The last leg of their journey would be across the San Luis Valley and up over Wolf Creek Pass at 10,857ft (3,309m) to Pagosa Springs.
<iframe src="https://www.google.com/maps/d/embed?mid=14nrhlOgFvirabaVO8qyUWrbr6m0" width="800" height="480"></iframe>
The Trip
They left early Saturday. It was grey, cloudy, and felt like rain was in the air. The ride to Cripple Creek took approximately 2-1/2 hours (123 miles) and was easy going. Just South of Cripple Creek they planned to take their first off highway route via Shelf Road. Shelf Road is a winding dirt road that connects to Canon City. The backroads route to Canon City added another hour to the trip (for a 20 mile stretch) with an additional hour from Canon City to Westcliff on the Oak Creek Grade Road (50 miles). About 30 miles south of Westcliffe, they exited the highway again to take Medano Pass to The Great Sand Dunes National Park.
They initially took the wrong road (incorrectly labeled County Road 559 on Google Maps) that went across some private property and Mike and Randy were summarily punished with a couple wipeouts on "Mud that was a slick as grease," according to Mike. No one was hurt nor the bikes damaged so they moved on and made it to the real 559. From there the fun started.
The Shelf Road
This video is part of the Shelf Road, Teller County Road 88, between Cripple Creek and Canyon City, Colorado. At about the 6:45 point in this video, if you look on the canyon wall above the road, you'll see the hole in the rock, a famous formation.
The image below is the rock that fell on the Shelf Road the night after Mike, Rod, and Randy were there. Mike noted this was a "near miss" in geologic time.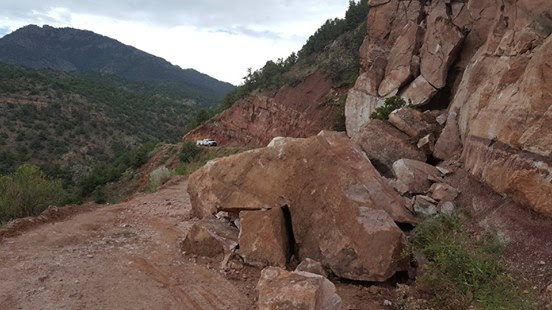 Medano Pass
According to the guide, "The Medano Pass Primitive Road is a rough 22 mile road connecting Great Sand Dunes and Colorado State Highway 69. Passable only in the warmer months and only with high clearance 4-wheel drive vehicles, it gives access to Medano Pass (elevation 10,040') and Great Sand Dunes National Preserve. This road crosses areas of deep sand, traverses Medano Creek nine times, and passes through excellent habitat for bighorn sheep. Average driving time for the entire primitive road is about 2.5 – 3 hours."
Mike's Medano Pass Trail Description:
The trail climbed steeply up the mountain with sharp switchbacks that required shifting down to first gear. All along the trail were deep puddles full to the top from the previous night's rain. Rod and Randy shot ahead and I did my best to keep up. The climb was challenging, but fun as hell. After about 10 minutes of going up, we pulled off to regroup. All three of us had smiles from ear-to-ear. I realized that my camera had run out of juice so I'd missed recording that first climb. I put in a new battery, we mounted our bikes, I started recording, and we took off again.
This next part you can see on the video. We continued to climb until we got to the entrance of The Great Sand Dunes Preserve, just east of the National Park. That appeared to be the summit of Medano Pass because we started to descend. The trail was relatively smooth and again had puddles as well as lots of little bumps where I was able to catch a little air. My bike weighs about 600 lbs and with my 200+ lbs, I wasn't getting too much air. At least it was enough to get my rear tire of the ground, spin a bit and feel like I was doing something extraordinary.
I'm sure we were all laughing like little school boys as we cruised down the trail, at least I know I was. That is until we came around the corner and there was the first water crossing. It was probably about 20 feet across and muddy dark so we couldn't tell how deep it was. I offered to wade out there and see, but instead, Rod just headed in. He seemed to struggle getting out the other side a bit, but he made it through. I looked at Rudy and decided, to give it a try.
I started nice and slow, but then remembered Rod had a little problem getting up the other side so I twisted the throttle a bit. That was my mistake. The added speed created a wave over my front tire that pushed the water up and right into my air intake. I had my camera mounted on the left crash bar at about 40 inches off the ground and in the video you can see the water going over the lens. So it was some deep water. The bike stopped instantly due to hydro-lock. To explain why this is a problem I need to give you a little background on how an engine works. What usually happens in an engine is the piston compresses the air and fuel in the cylinder which is then ignited by the spark plug and the explosion pushes the piston down, generating power that is transferred to the wheel. But when you put water in the cylinder instead air, the piston cannot move because water cannot be compressed.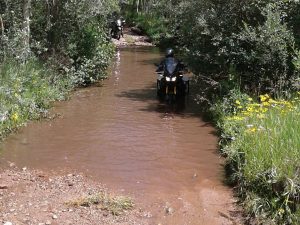 So there I was stuck in the middle of stream with a motorcycle that wouldn't run, maybe ever. Rod who'd made it through already laughed, took a couple pictures and then waded in and helped me push my cycle out. Randy was able to cruise across will no problem. The three of us then spent the next hour trying to get the beast running again. When that didn't work, since the trail was going downhill, we started to push it in neutral. But then at the first uphill section, it became obvious that wasn't going to work. Then we tried to tow my bike with Rod's bike. But that didn't work. So after at least a couple hours, I made the decision to leave the bike on the side of the trail. I'd have to come back for it. We pushed my cycle off the side of the road, I grabbed my backpack of clothes, and jumped on the back of Rod's bike. We headed down the trail. It was pretty rough going and I got off to walk across the next couple stream crossings.
Luckily, Mike met a family that let him ride in the back of their pickup truck out of the Medano Pass Trail to the Great Sand Dunes National Park while Rod and Randy rode out on their working bikes. Mike was in the back so he didn't talk with the family, but they seemed very friendly. Mike slipped the father a twenty to thank him for the ride and told him to buy some beers on him.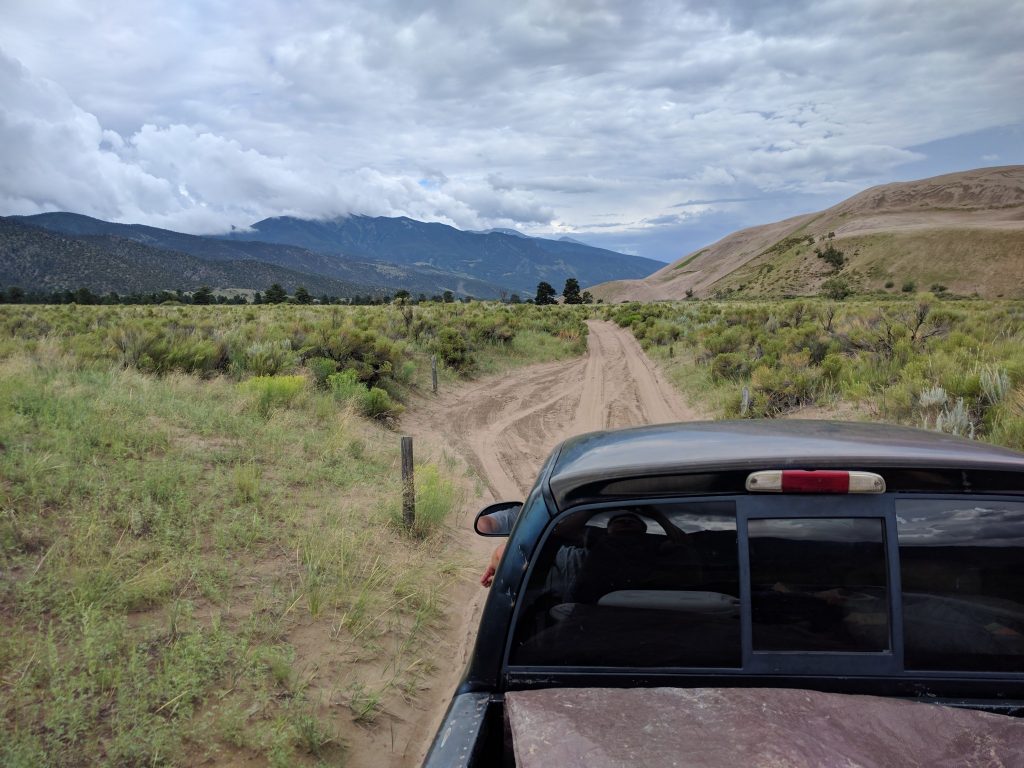 Mike road on the back of Rod's bike for the remainder of the trip (160 miles, 3 hours) to Pagosa Springs. When we arrived, Rod headed out to meet his girlfriend and her family who had rented a house in Pagosa Springs for the week.
Mike and Randy, after experiencing the highs and lows of the day, were definitely in the mood for a good meal and a few adult beverages. They checked out Boss Hogg's Restaurant & Saloon in Pagosa Springs. They had a grumpy waitress that warmed up to them after a while. They stayed at the Econo Lodge in Pagosa Springs which MIke said he would recommend for its friendly staff and clean rooms.
The next day (Sunday), Mike rode Rod's bike and Randy joined him on his own bike for the ride home (Rod rode home later in the week with his girlfriend Melinda). Mike and Randy grabbed an amazing breakfast burrito on the way home at the Mystic Biscuit in Del Norte, CO. Mike had seen the place last year but it was closed. They just re-opened under new management in April. 5 stars!
The weekend was extended to Monday as bike retrieval was necessary. Rick (who is Rod and Randy's brother, and Mike's wife's brother-in-law) was nice enough to loan his pickup truck.  So Mike and his wife left at 8 am and drove all the way back to Medano Pass where they had left the bike. They got the bike loaded up in the truck and drove home. They took some amazing pictures on their way out of Great Sand Dunes National Park, but wished it was for a better occassion. This motorcycle adventure wouldn't be complete without mentioning the super tasty brisket sandwich with perfectly seasoned string fries Mike had at Three Sisters Tavern and Grill outside of Colorado City on the way home.
***Update***
So the Tenere LIVES! I was able to get the old girl running again. I started with draining the oil pan. When I pulled the oil plug, what should usually be black dirty oil was crystal clear water. I assure you that's a very strange feeling. Once oil started coming out, I replaced the drain plug, pulled the spark plugs and turned over the engine with the starter. I got a facial of a couple tables spoons of gas and water, but I've never been happier. The fact that the engine turned over with the starter hinted that I might have escaped from causing any permanent damage. I then proceeded to put in new spark plugs and do three oil changes. In the end, she runs as good as ever. I just got back from a 900-mile 4-day trip with some pretty hard-core trails, all with no issue. All I can say is thank you to Rod, Randy, Rick, and Amy… and WHEW!